HOLTVILLE – The euphonic sound of small barks and gentle purrs emanating from the lobby of a Sonrisa Villa Assisted Living center for seniors came from the most curious looking cast of cats and canines as seniors played with their robotic pets.
The 10 Sonrisa seniors were some of the 30 total seniors who received the robotic pets from Long Term Care Ombudsman Coordinator for Imperial County, Karla Flores, through a grant awarded to the County's Area Agency on Aging (AAA) by the California Department of Aging ( CDA), said AAA Department Fiscal Manager Madeline Dessert.
Dessert said the CDA Office of the State Long-Term Care Ombudsman (OSLTCO) initiated the Electronic Companion Pets Project-Ombudsman in response to the negative impact COVID-19 has had on residents living in long-term care facilities.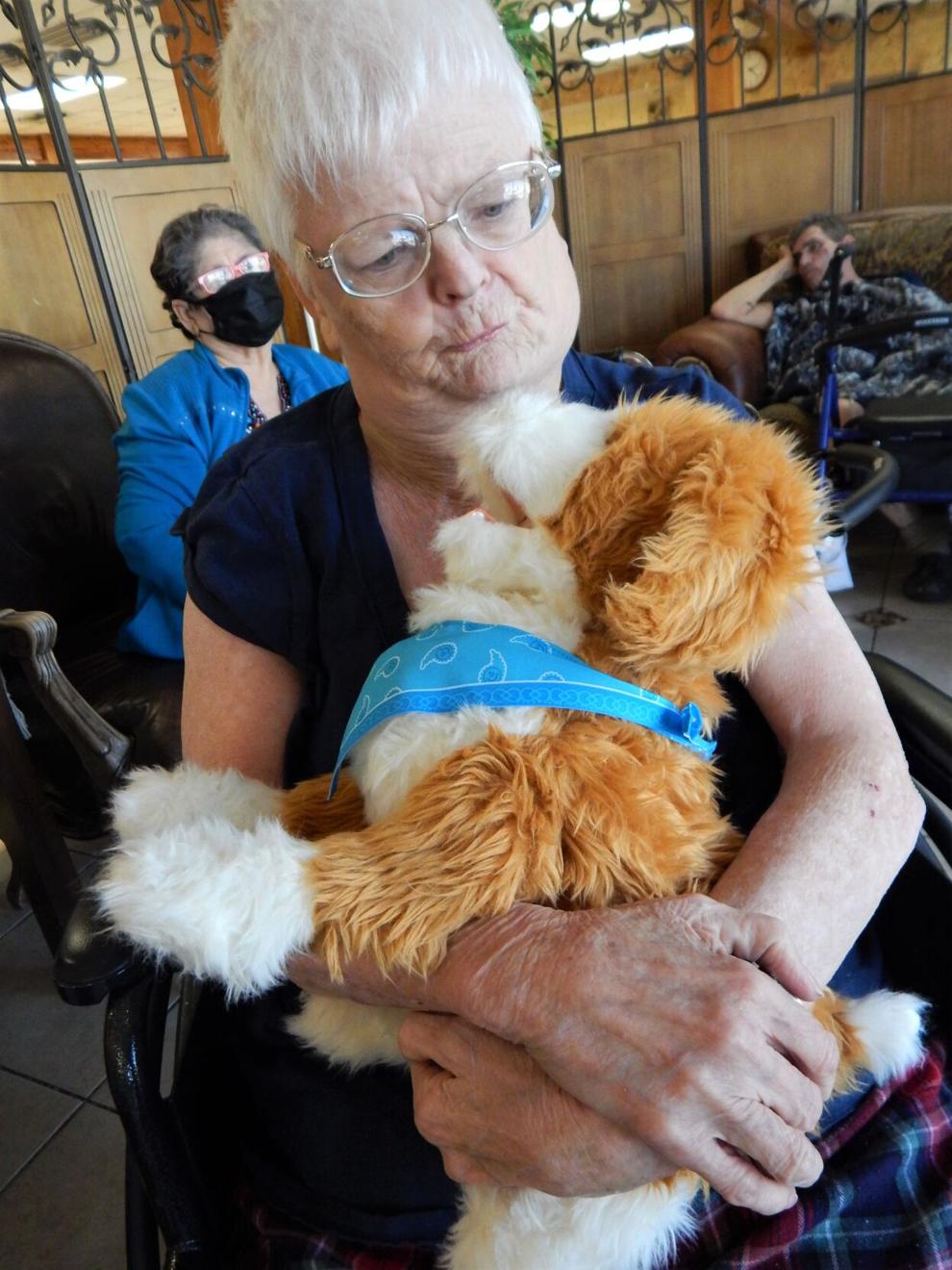 "As outlined in a recent AARP report, feelings of loneliness, abandonment, despair, and fear among residents – and their toll on physical and neurological health – are pushing the pandemic's death toll higher," Dessert said. "Individuals living in licensed care facilities have experienced the loss of fellow residents and staff to the virus."
"They have endured extended periods of quarantine facility, restricted opportunities to engage with fellow residents, lack of meaningful engagement through organized activities, and most especially the stress of the unprecedented separation from family and friends who were restricted from inside visits with their loved ones. She said.
Dessert said the ECPPO project is a "person-centered approach to increasing engagement and enhancing meaningful interactions during and post" pandemic.
Flores said the one-time grant was offered to all Ombudsman offices throughout California. She said when she heard about it, she jumped at the chance, as it enabled her to "reestablish relationships with facilities and residents" after COVID-related restrictions have lessened while simultaneously "combating isolation and loneliness" for the seniors.
She said the pets were given to seniors suffering from Alzheimer's and other issues. She said the "electronic companion pets" were designed to "enhance meaningful interactions" among senior residents of long-term care facilities.
"The companion pets are designed to bring comfort, companionship, and lowers stress while helping the individual relax and feel calm," Flores said. "At the same time, these pets can be fun for seniors as it will prevent loneliness and reduce depression and improve socialization and communication skills."
Flores said the project targeted giving the pets to low-income seniors in skilled nursing and residential care facilities, especially for seniors who don't have family that visits them.
She said some facilities in Brawley, Holtville, and El Centro participated, agreeing to accept and distribute the robo-pet gifts of 14 cats and 15 dogs to their residents across six senior care facilities.
Flores said the AAA kept one pet for County staff to use as a way for them to de-stress or to utilize for clients who suffer from anxiety at the moment.
Flores said the battery-powered pets have sensors that "respond to movement and touch," including blinking, movement of the head and mouth, and producing "life-like" barks, purrs, and meows. They have an on / mute / off button so that users can adjust the level of response, she said.
She said each pet's cost ranged from $ 125-140 each with a discount from the vendor through the Ombudsman's office. Dessert said the seniors will not have to return the pets at any point.
"It's like a pleasant distraction for them, (especially for some) who have had a lot of difficult things happen to them in life," Sonrisa Care Coordinator, Gabriela Zamora, said in Spanish.
"(When using these pets) they don't remember they have certain illnesses or (physical limitations)," Zamora said. "They're very happy with their pets and they're like that all day. It has changed their whole outlook (and) given them more life and joy. You can see the happiness on their faces. "
Zamora said it's helped changed some of the residents' attitudes for the better, making some of them more "sweet, affectionate, and loving."
"They have (the pets) with them almost all day," she said. "They speak to them, laugh with them, groom them, coo at them, sometimes they even try to feed them, but we tell them,' They don't eat. They're on a diet. ' Normally even when they go to bed, they're hugging them. "
"It's a big help; it's like a family member for them, "Zamora said. "They put them on their walker with them, and it's like they can't let them go."
"It's also a great conversation starter," said Smile Administrator Itzel Guevara. "It's really adorable how they really show a lot of love to the little pets."
Sonrisa resident, Glenn Bersamina, said his new pet robo-dog – aptly named Buddy – helps calm him down when he feels anxious.
"He's a purebred golden retriever, (and) he's a good companion," he said. "I don't have to feed him, and he doesn't have to go to the bathroom; he just guards me. He's my bodyguard and a nice friend. "
"We're in the same room and we get them together and we laugh so hard," Margaret Fifield said of her roommate Julie Ramsey and their respective robotic dogs, Bridget and Booboo.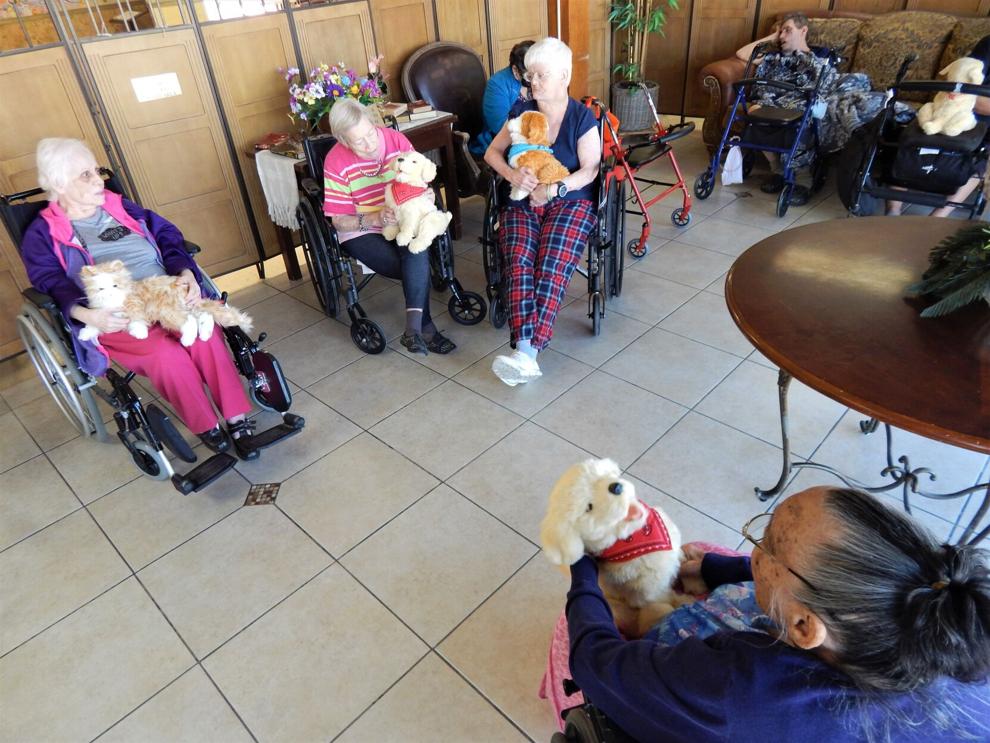 "We get to laugh and we can't even talk to them because we're laughing so hard," Fifield said. "They won't stop sometimes."
"(Petting him) makes me think he's real," Bersamina said, petting his Buddy robo-pooch, who responded with a bark and a blink of his eyes. "See? He answers," he said. "I love him."
Ten of Sonrisa's 90 residents received robotic pets through the Electronic Companion Pets Project-Ombudsman, with Sonrisa being the facility which received the largest number of pets for this first round of gifting.
Though the grant was a one-time allocation from the state, Flores said she will seek funding locally with the County Board of Supervisors and by other means of donation, such as "Sponsoring a Senior" to receive a pet for their well-being. so more seniors can also enjoy the robo-pets.
"It's entertainment for us old people," chuckled first-day robo-doggy owner Yolanda Ruelas.
"I'm very happy to have this little doggy," she said. "It cheers us up."
To inquire about how to donate to the Electronic Companion Pets Project for seniors, email Imperial County Long Term Care Ombudsman Coordinator, Karla Flores, at karlaflores@co.imperial.ca.us or call the Area Agency on Aging at 442-265-7033 .
.